School Gardens
Giving our students the opportunity to plant a seed, watch it grow and harvest their nutritious bounty is one way to promote a healthy school environment within Metro Nashville Public Schools. We are proud of the 47 school gardens in our system that are using gardens as a hands-on method of teaching Nutrition as well as core subjects such as Science, Reading, Math, Social Studies and the Arts.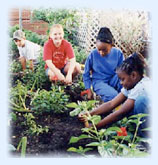 A school-based garden can be a few demonstration raised beds or a one acre farm like the Bellevue Edible Learning Lab at Bellevue Middle School. At any scale, school gardens have been proven to increase fruit and vegetable consumption as well as school achievement scores. They are also a great way to expose our students to fresh air and pride in growing their own.
We have included resources on how to start your own garden, including the approval process for MNPS Planning and Construction. We have also provided links for ways to connect with other school gardens as well as local and national resources such as curriculums, grants and technical assistance.